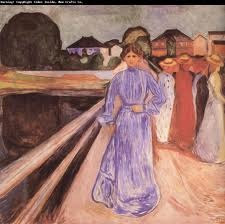 The Art of Crossing
Somewhere out there on the edge of things,
the young girl crosses a bridge
for the first time, her bare feet marking
a path through the dry dust of summer.
Crossing is the hardest part.
The houses watch; the water says her name.
If she stays straight, nobody sees --
she is a shining clear as glass.
They shade against her; they turn their eyes away.
The girl heads north toward the hills
and climbs to darkened doors
that open cavelike at her touch,
where, for just a while, she is just
a girl who crossed a bridge and climbed
a height before she turned for home.