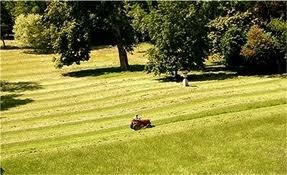 Ordinary Time
It's Ordinary Time,
when grasses sway in the light
of a day so white,
you almost close your eyes,
when the sound of mowers
mowing hay is the only way,
besides the sweetish smell,
to read September's hue.
Green goes into yellow
and already you forget
the feel of summer blue.
It's Ordinary Time,
and drowsy noon
against the mellow light
holds you so still
that Autumn's chill remains
A distant dream away.