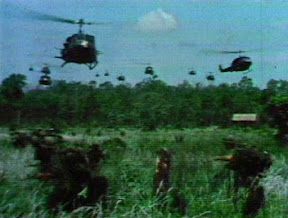 BORN TO BE WILD
Old guy on a motorbike
parked at McDonalds
in the early morning air
with a latte in his hand.
Sets it on the sidewalk
while he pretends to inspect a tire
and think about where it is he wants to go.
About my age, I'd say, give or take a few.
White sideburns below the dark blue
bandana tied behind his head.
I wonder how many old guys I've seen
like this. Those same tatoos.
That sleeveless jacket.
Soon as I catch sight of one,
ponytail roped tight against his sloped back,
I see jungles like a Walter Cronkite newsreel.
I see Danny Maroney
in his bulky camo green,
tripping along campus in his too tight jeans,
smoking way too much of everything.
I see buckskin fringe flying as I dance
to the music in my head.
And Danny is long dead.
And this one must be retired, and tired.
Born to be wild nothing more than
coffee in the warm morning air.
For a minute, he looks up and sees me
in my SUV on my way to work,
and he thinks he knows me.
I'm that girl he remembers.
The one on the dance floor.
The one he came home for
all those years ago.
This is dedicated to my dear friend Danny Maroney who was killed in Viet Nam and died 40 years later. Rest in Peace, Danny Boy.